Poisonous Beauty: Growing dipladenia – commonly known as rocktrumpet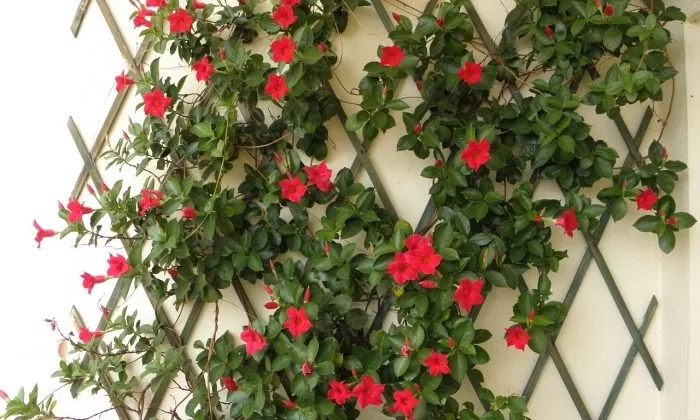 Are you looking for a climbing plant that looks amazing? If so, you may be at the end of your search. We would like to recommend dipladenia, a plant that can easily reach a height of up to 3 meters, providing that it has proper support. Dipladenia has beautiful white, purple or pinktubular flowers. The funnel of the flower is traditionally yellow. Prune the plant regularly after flowering to obtain a nice compact shape.
Diplaenia – short introduction
This ornamental plant with a woody stem comes from South America, namely Brazil, where the climatic conditions are perfect. We should mention two basic cultivars – dipladena splendens with pink flowers and boliviens with white flowers and typical orange funnel. Leaves are dark green. Dipladenia blooms from May to late autumn and sometimes even at the end of October. Just a little reminder. Know that the entire plant is poisonous!
Dipladenia – basic growing rules
In terms of cultivation dipladenia is not a highly demanding plant. Direct light or even partial shade is ok. Soil should be rich and contain as much humus as possible. Peat substrate is preferred, and if you add liquid fertilizer from time to time, your plant will love you. In terms of temperature, dipladenia enjoys regular room temperature , but make sure it will not fall below 13°C. Cold environment turns leaves yellow and they may even fade away and fall out.
Few things to watch for
Make sure your plant is not exposed to freezing weather. Frost would destroy it quickly, but at the same time, do not put the plant in direct sunlight either. Limit watering as much as possible during winter and do not use cold or too hard water. A good idea is to moist leaves regularly during the season.
Photo: Pixabay

Radek Štěpán
Gardening is my hobby, I have a lot of experience and I am happy to share it.