Mulberry jam from homemade pectin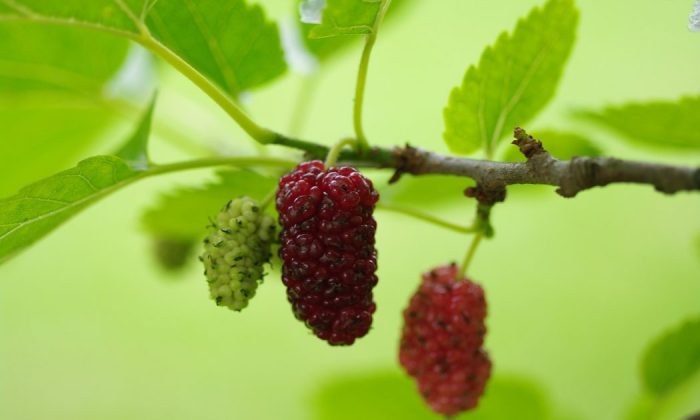 Mulberries have a very low pectin content. That means they will not thicken or in other words, they will not turn into jam easily. If you add a commercial pectin, you would also need to add a huge amount of sugar, or you could cook the fruit for a very long time… But you can actually use a homemade pectin and keep the sugar contents under control without the long cooking time and destroying the taste and the colour in the process.
Mulberries grow on trees
Since mulberries ripen gradually, they are rarely available for purchase so, you need to harvest yourself – if you find a tree. The typical way to harvest mulberries is to shake them off the tree – before shaking you need to place a large canvas or some fabric under the tree. Ripe berries will fall and you just collect them. A kind of annoying thing about mulberries is that even fully ripe mulberries still retain the stem and removing the small stems is extremely difficult – but not necessary. It's up to you, but if you remove the stems, the jam will have a better texture.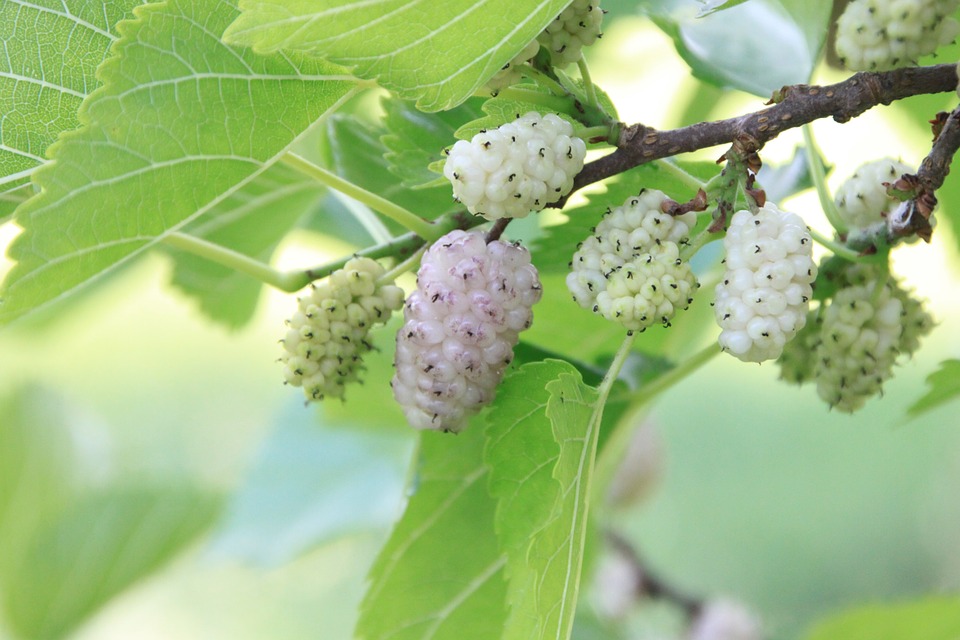 Photo: Pixabay
Ingredients that you need:
1.8 kg of mulberries (you can also use frozen – the weight is given for fresh mulberries),
118 ml of homemade pectin (citrus or apple – you can buy it at farmers' markets for example),
560 g crystal sugar,
1 tablespoon of wine vinegar or lemon juice.
Fruit preparation
Put mulberries in a large container and make sure it is not made of aluminium, copper and that it is not coated with enamel to prevent discoloration. It must be chemically very stable such as stainless steel or heat-resistant glass, etc. Add sugar, cover it and put it in a refrigerator for 8 hours (or overnight). This will reduce the cooking time and you will be able to preserve the fruity taste and natural colour.
Sterilize containers
Sterilize storage containers that you intend to use by immersing them in boiling water for 15 minutes. Do not boil the sealing lids, but immerse them in hot water .
Making jam
Mulberries will release a lot of juice during maceration. Stir everything to dissolve any remaining sugar. Add homemade pectin and lemon juice or vinegar and stir well. Place the pot on the stove and heat it up . Cook and stir constantly until the mixture begins to thicken. Fill the glasses, wipe the edges with a clean cloth and close with lids. Turn upside down and let them cool overnight. Store in a dark room.
Preview photo: Pixabay

Radek Štěpán
Gardening is my hobby, I have a lot of experience and I am happy to share it.