Jacaranda mimosa – a fragrant tree for your terrace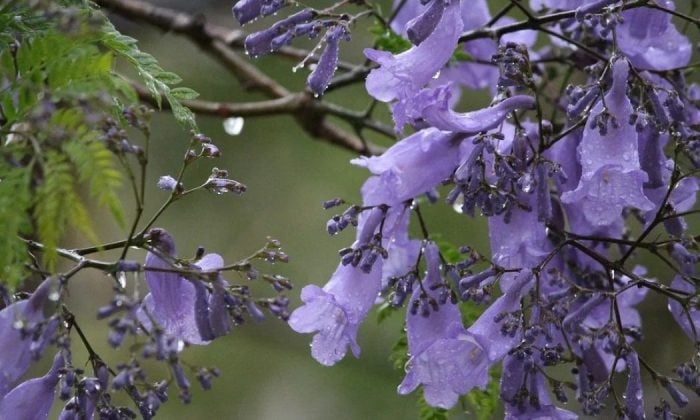 In its home, Jacaranda mimosifolia is an impressive several meters tall tree, but in our climate it grows much smaller. But if you are looking for an interesting plant with a strong scent that you can move around, you should go for it.
Jacaranda or blue jacaranda is one of the most beautiful flowering plants in the world. No kidding. Look at its huge crown full of light purple flowers. It looks like it came from the movie Avatar or some other fantastical world full of colours
Jacaranda – a carnival plant
It is not surprising that the original home of jacaranda is southern Brazil and north and west of Argentina. In South America, jacaranda is used to decorate streets of big cities and parks, but in our corner of the world we grow it on terraces. It is especially pleasing during spring and summer when it blooms with lavender-coloured flowers.
From a distance it may remind you of a wisteria, but when you look closely, you will notice feathery leaves, strikingly similar to mimosa. Flowers produce delightful balmy scent. The scent is so intense that sensitive people can easily get a headache.
How to grow Jacaranda
The lowest temperature when you can still grow it is 5 °C. So, keep that in mind and get it only if you have an unheated room or a a cold greenhouse with enough light. You will need it in the winter. It will also grow well as an indoor houseplant, but only in a well-ventilated room with higher air humidity and enough light.
Water abundantly during the growing season and fertilize every month. Water sparingly in winter. At the end of winter, you can shape the tree into the form you desire.
An interesting fact is that back home people use jacaranda as a medicinal plant. The bark and roots are used to treat syphilis and leaves are used as a healing bandage for various injuries. Fun fact: if you walk under a flowering jacaranda and flower falls on your head, you will be loved for the whole year – as the popular saying goes.
Preview photo: Pixabay

Radek Štěpán
Gardening is my hobby, I have a lot of experience and I am happy to share it.