Canning cucumber and zucchini salads for the winter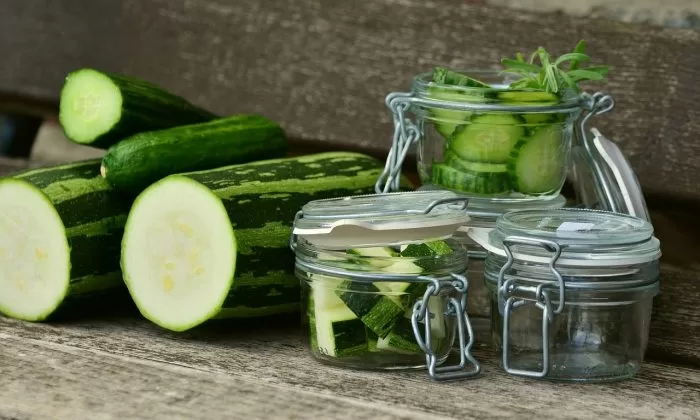 There are never enough good canning recipes. And what is a better time to do some canning then now when harvesting efforts of all types are all around us? Today I'm going to show you my favourite zucchini and cucumber salad recipes, which I serve as a side dish to meats or to very spicy dishes.
They are not difficult and you can even try the very controversial type of canning – in the dishwasher or in the oven, but if you do not like to experiment, follow your own canning procedures. Canned salads will last a year without any problems – that is until the next season, unless, of course, you eat them earlier.
Zucchini salad with chilli peppers
I would like to recommend this recipe to anyone who likes zucchini. The salad is crunchy, smells great and simply delicious. Sometimes I add a few sprigs of dill before serving to make it more mysterious.
Ingredients:
3 kg young zucchini,
6 large onions,
250 ml of wine vinegar,
3 chilli peppers (optional),
3 tablespoons of mustard balls,
300 g sugar,
150 g salt.
Preparation:
Wash the zucchinis, cut off the ends and cut into thin slices. Sprinkle with salt, mix thoroughly and leave to rest for 2-3 hours. After that, rinse well and gently squeeze out the excess liquid.
Use one onion to make onion rings. Do the same with chilli peppers (without seeds, of course). Mix everything with all the spices and the remaining ingredients. Let it sit for another 2-3 hours. Then strain the mixture and press it into glasses and pour the strained liquid over it. Pasteurize for about 20 minutes – after reaching the boiling point.
Pickled cucumbers with garlic and chilli
Ingredients:
3 kg of cucumbers,
1.5 teaspoons of chilli,
0.5 kg sugar,
2 tablespoons of salt,
1 glass of vinegar,
4 spoons of oil,
1 garlic clove.
Preparation:
Wash cucumbers thoroughly and cut them into thin slices, add salt and let them sit for 2-3 hours. Drain the juice, cut the garlic into thin slices, add chilli, mix thoroughly and set aside for another 2-3 hours. Cook the vinegar, sugar, oil and the juice from the cucumbers. Dilute with water as needed and then pour it over the cucumbers and let it rest for 2-3 hours again. Pack tightly into jars and pour the juice over it so the cucumbers are submerged. Pasteurize for 5-7 minutes.
Photo: Pixabay

Radek Štěpán
Gardening is my hobby, I have a lot of experience and I am happy to share it.